Skip Navigation
Website Accessibility
Kimberbell No Place Like Home 2-day Embroidery Event
No Place Like Home is unlike other Kimberbell events in a unique way. Instead of working on a variety of smaller projects, you'll be creating ONE 22 x 22" multi-pieced pillow with background quilting, a flanged border, and a variety of beautiful blocks. Your event instructors and our amazing Kimberbell directions walk you through the whole project one step at a time, so there's nothing to be intimidated about. :)
The pillow is stitched in hoops with a 6x10 embroidery hoop (or larger), and your Event Project Kit is packed with everything you need to complete your project, including batting, fabric, and even the pillow insert!
Let's take a closer look at some of the heartwarming details of Kimberbell's No Place Like Home pillow.
Dimensional Heart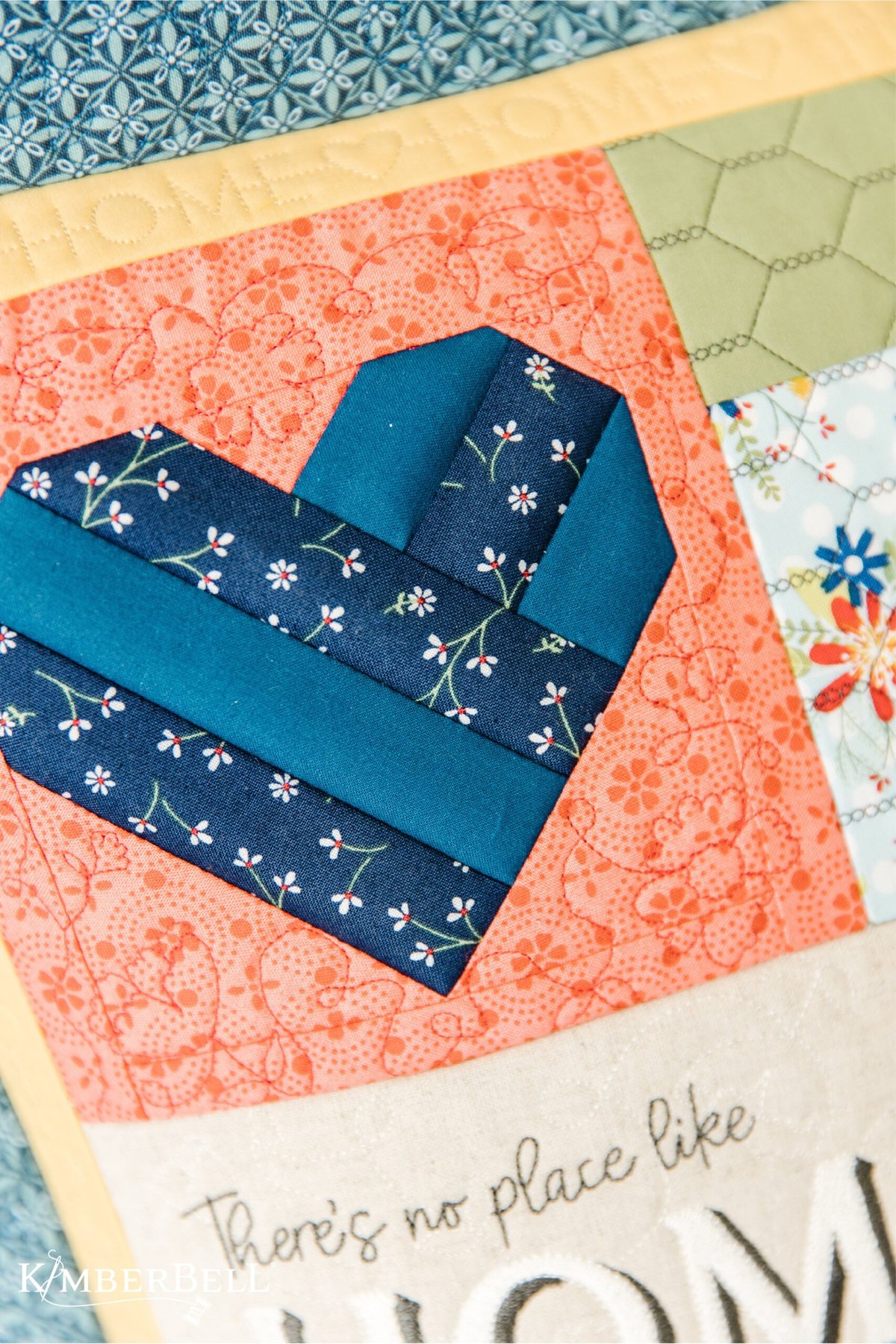 Speaking of heartwarming, we love this heart to "pieces!" Kimberbell Flexi Foam adds a fun and poofy dimension beneath the fabric. And guess what? The heart is pieced entirely in-the-hoop! You won't believe how easily it all comes together.
Cozy Cottage and Swirly Smoke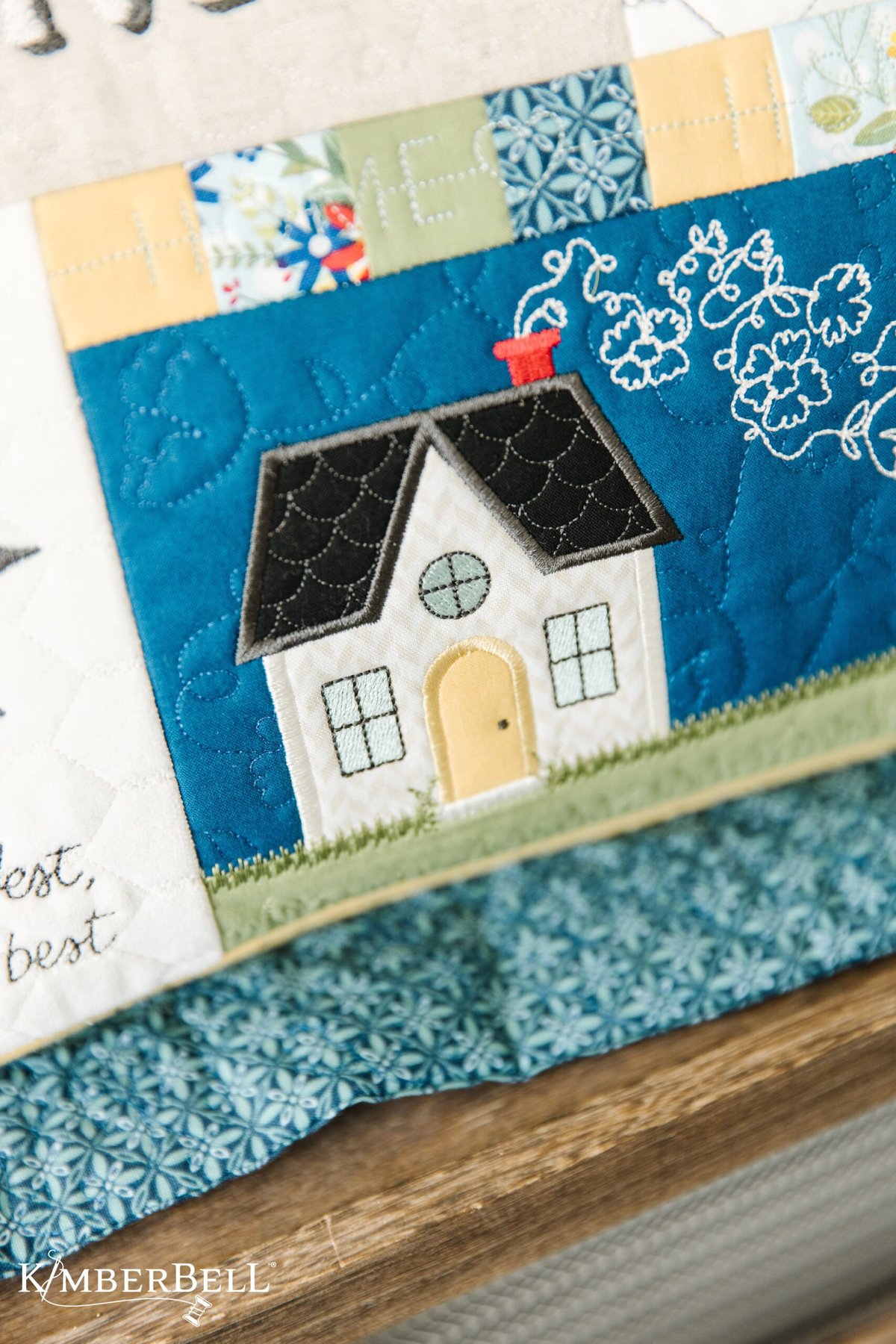 You know your home is filled with love when the chimney smoke swirls in a floral pattern! Stitch your cozy applique cottage with a scalloped roof.
Hang Your Heart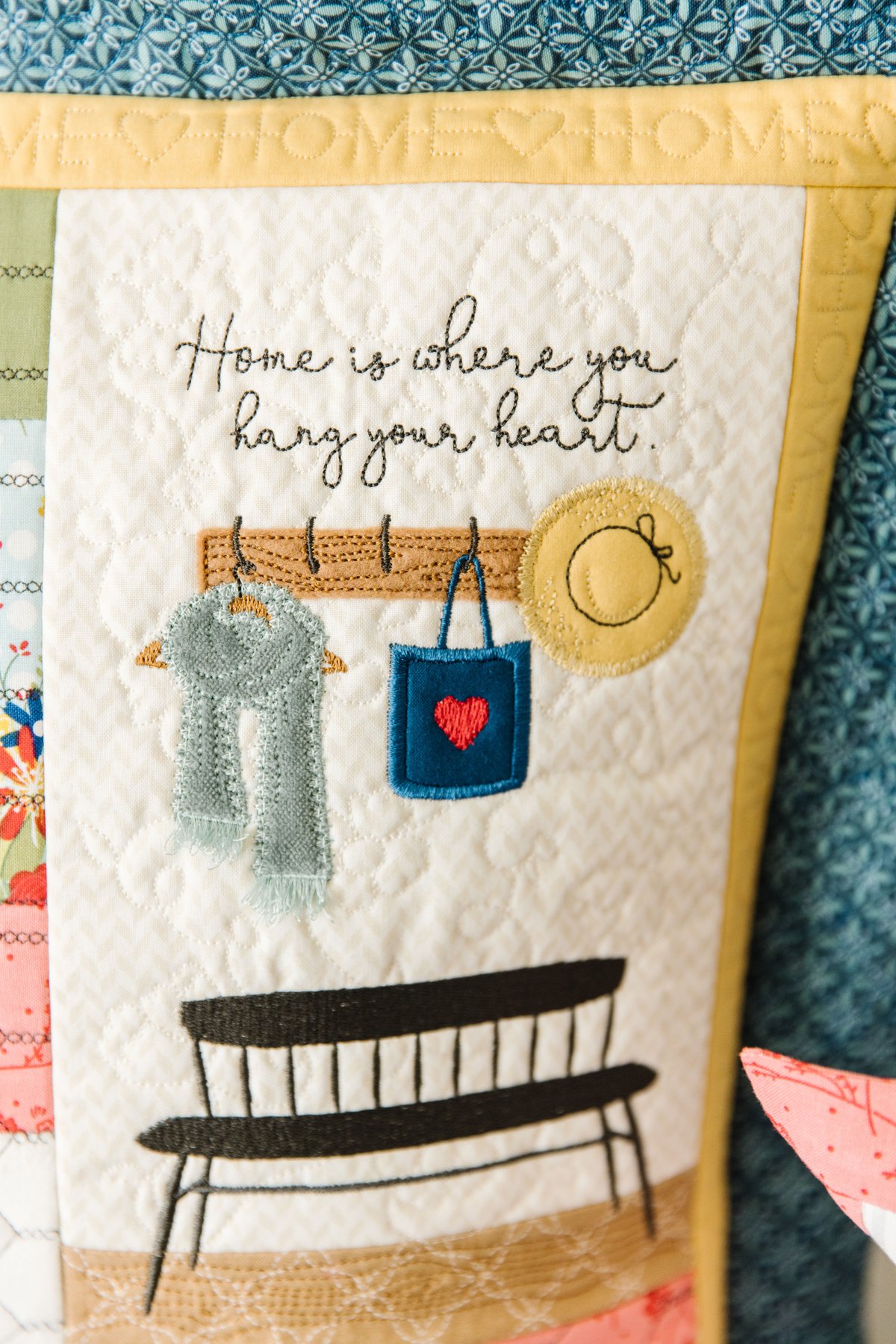 "Home is where you hang your heart" AND your Velveteen scarf with fringed tassels. Add the dimensional hat and darling tote above the stitched bench! (Did you notice the "Home" and heart stitching on the yellow border?)

Exclusive Quilting Pattern

Kimberbell's No Place Like Home project also includes this exclusive chicken wire quilting pattern! Discover how easy it is to do background quilting on your embroidery machine with a pattern you can only receive at this event.(Don't you think the chicken wire adds just the right down-home touch?)
Weather Vane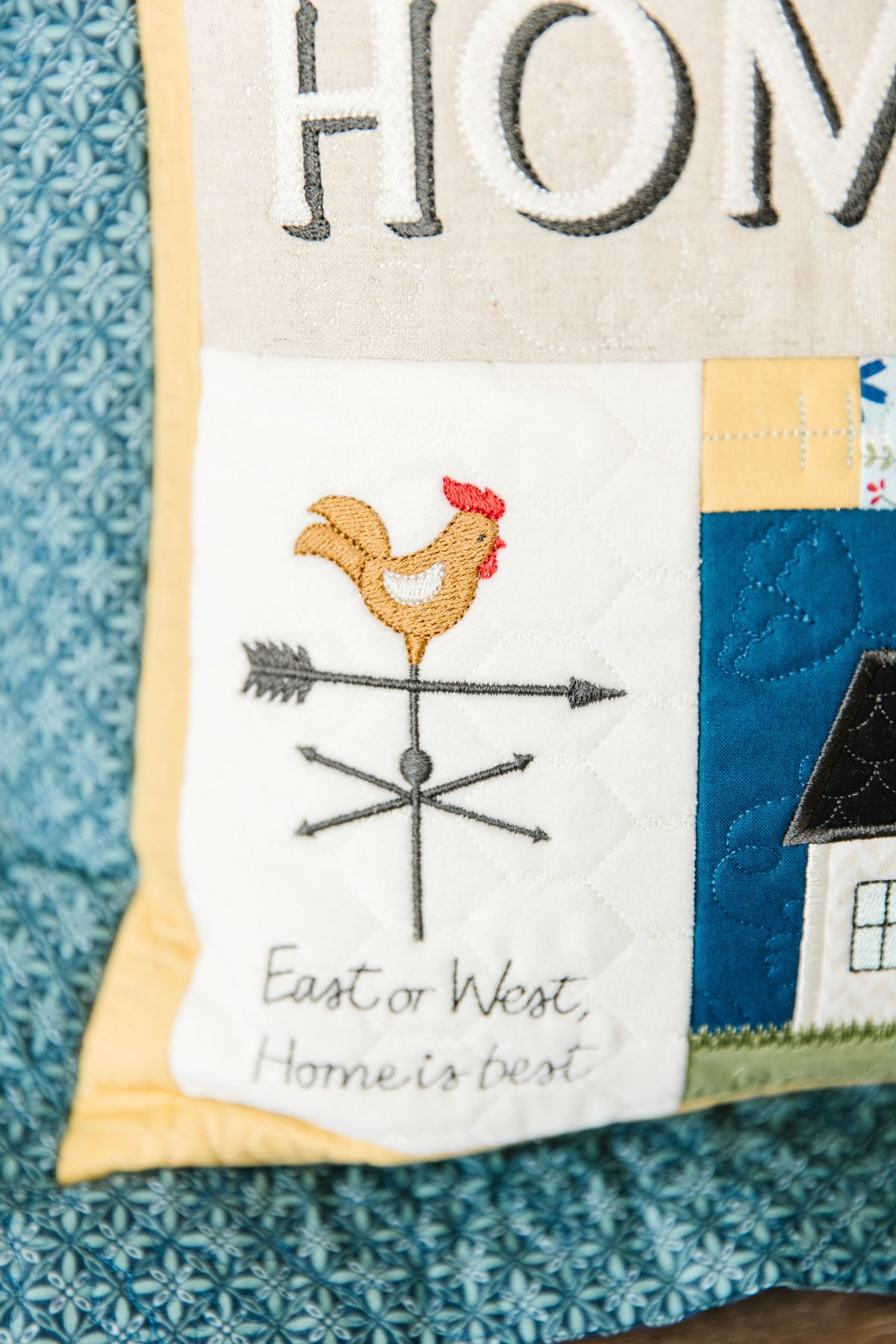 This pattern couldn't be a more fitting backdrop for our weather vane, with its stitched chicken perched on top to direct the way. Add the sweet sentiment, "East or west, home is best" below.

Event Bonus CD
One of the perks of attending a Kimberbell Event is the opportunity to earn the event's exclusive bonus CD. This is how it works: when an attendee spends $100 (or more) in the Kimberbell Popup Shop while at the event, they earn the FREE bonus CD, which you simply can't get anywhere else. (Your shop will explain the details of how to qualify!)
The Bonus CD for No Place Like Home is My Humble Abode.
My Humble Abode includes six sentiments to brighten your nooks and crannies. Available in two sizes for 5x7 and 6x10 hoops, each applique design features delightfully decorative elements. Stitch Laugh, Friends, Family, Love, Gather, and Chaos to create rectangle pillows, square pillows, wall hangings, and more!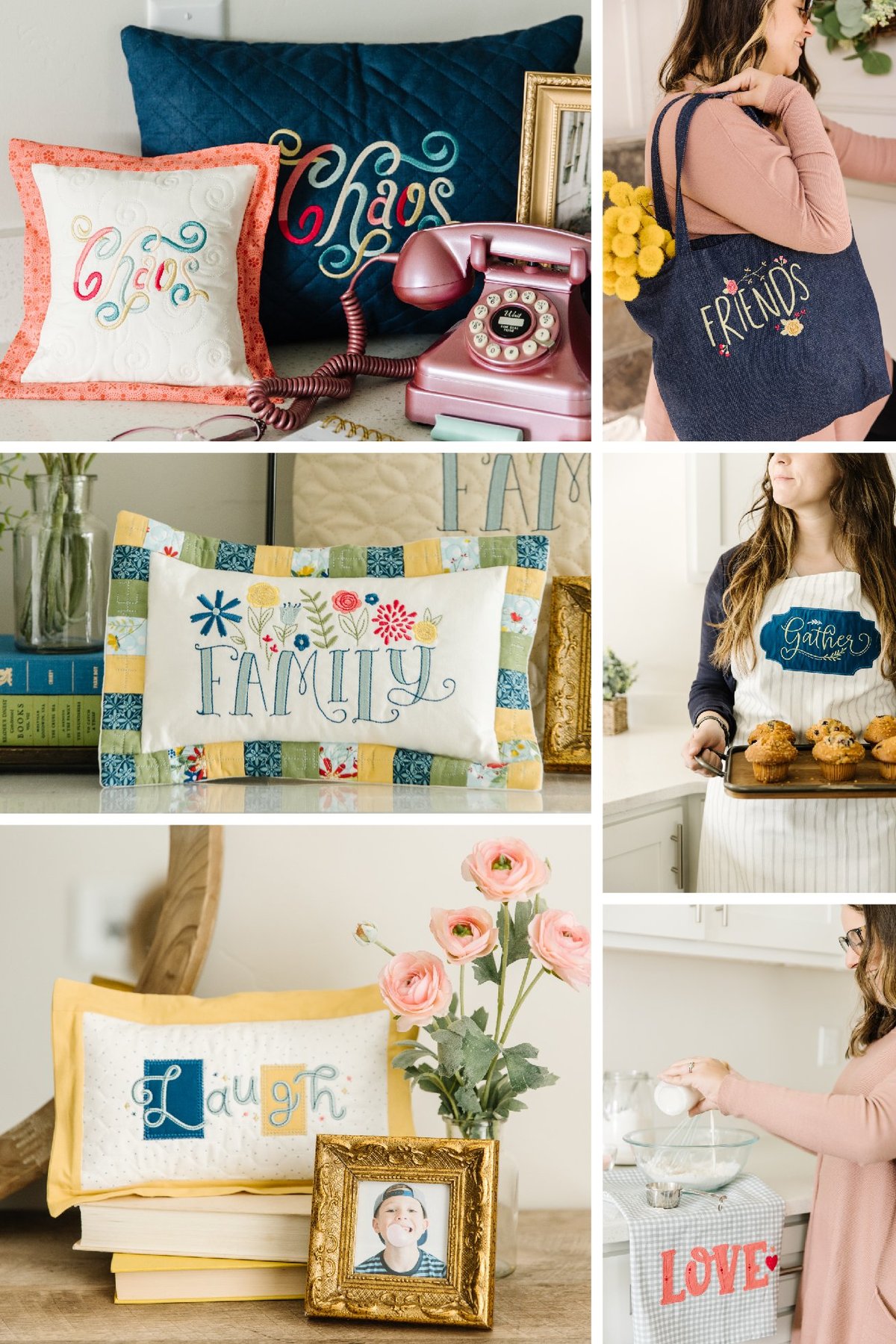 (I don't know about your household...but I can definitely identify with that Chaos sentiment!) :)
We can't wait to see you at Kimberbell's No Place Like Home event. Sign up today!
Call 330-920-1583 to sign up!
Kimberbell No Place Like Home 2-day Embroidery Event
Cost:
$ 199.00
Includes everything that you need to make these projects except thread. We will have thread kits available for purchase as well. Must bring your own machine