The Baby Lock Alliance single-needle, free-arm embroidery machine lets you embroider easily in tight quarters and even on three-dimensional projects. Its narrow embroidery arm and specially designed small hoops and frames take your embroidery places not possible with other machines - inside pockets, sleeves, even embroiderable stuffed animals!
The Baby Lock Alliance embroidery machine features include:
8" x 8" Embroidery Field
1,000 Stitches Per Minute
25 Built-In Fonts
TruView LCD Touch Screen
IQ Technology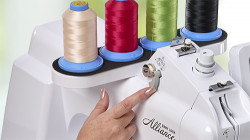 QUICK-SET, BUILT-IN BOBBIN WINDER
The Alliance bobbin system includes an automatic bobbin winder with an independent motor. The winder seat holds the thread in place and stops automatically when the bobbin is full.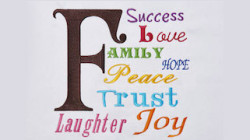 25 BUILT-IN FONTS
25 built-in, editable fonts to help you make every project unique, including a Large Floral Alphabet, Greek Letters, Large Applique? Alphabet, and a Baby Lock exclusive font.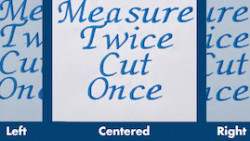 MULTI-LINE TEXT & JUSTIFICATION
Now you can create multiple lines of text quickly and easily, without the need for constant rehooping. Plus, you can center or justify your text alignment to get precisely the look you desire.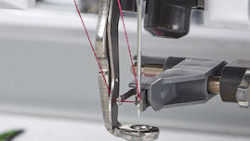 AUTOMATIC NEEDLE THREADER
Get the stitching started with worry-free threading. The automatic needle threader puts your thread through the needle so you are ready to begin stitching.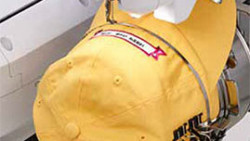 OPTIONAL CAP HOOP AND CAP SET
Embroider caps with speed and ease with this cap frame for your multi-needle embroidery machines. This snap-on frame allows you to effortlessly embroider along the curve of any cap. With additional cap frames, you can save time by having several caps hooped and ready to snap-in.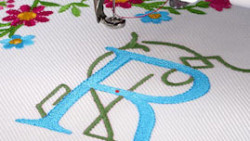 NEEDLE BEAM FOR EMBROIDERY
The Needle Beam highlights your needle position so you know exactly where your embroidery will start. That means perfect placement every time.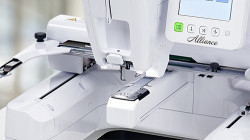 SINGLE-NEEDLE, FREE-ARM EMBROIDERY
With its single needle and free arm, the Alliance is built to embroider items and three-dimensional spaces that are difficult for typical embroidery machines, such as inside pockets, embroiderable stuffed animals, or even shoes.